'Tis the season for love, joy, and celebration! While you are busy making the holiday season a festive and fun occasion for your whole family, the last thing you will want to worry about is the safety of your home and family. With SEi Security, we can take the guesswork out of the safety and security of your home so you can focus on your merry celebrations! Here are the top 5 ways we can keep your home safe this holiday season.
1. Fire Protection and Plan
During the holiday season, there are a few fire hazards to be aware of and avoid. The first is Christmas trees. If you have a real tree in your home, you will want to ensure that it is watered often to ensure the tree is not too dry. If you instead have an artificial tree, you will want to ensure that it is fire resistant. 
When it comes to lighting your tree or any other area of your home, you will want to first inspect your strings of lights to ensure the wires are not fraying. You will also want to ensure that you to not overload power strips or extension cords.
Candles are a very popular decoration during the holiday season. If you light candles, make sure they are not left unattended and nothing is around them to catch fire. You may even want to consider investing in electric or battery powered candles.
Finally, when it comes to keeping your home warm, many people use space heaters around their homes. You will want to ensure they are not near any fabric or trees and that they are not left unattended in case they fall over or catch fire.
We all know that you can take all the precautions to keep your home safe, but accidents can still happen. In that case, SEi provides installation, monitoring, inspection and service for your monitored fire alarm and monitored smoke detectors.
2. Home Automation
Much like Kevin in Home Alone took precautions to give the appearance of an occupied home, the home automation tools from SEi can keep your home secure. You can use our system to control your indoor and outdoor lights automatically. You can even control when your lawn inflatable decorations are turned on and off. Additionally, you can put your lights and decorations on a schedule to turn off and on when you are out of town, so you don't need to keep thinking about it.
3. Temperature & Flood Control
When temperatures drop and pipes are left dormant due to your family's travel plans, you need to be able to monitor and prevent your pipes from freezing. With SEi Security, you can set a monitor system to let you know if temperature of your home drops below a certain point, and have your main water valve shut off automatically to prevent a larger problem.
4. Monitor Package Delivery
Many of us shop online for gifts this time of year. Keep your packages safe by installing a video doorbell. This way you can deter a potential thief or catch them on the camera to assist in the retrieval of your items. In some instances, you can use this to ask the store where you purchased the item from to send you another one to replace it.
5. Security Cameras
If you are traveling during the holidays, you can keep up on the weather developments back home so you can come home prepared. If it has snowed and you need to arrange for someone to clear your driveway or sidewalks, you can check your security cameras. You can even see where your newspaper was thrown when it was snowing so you can find it later! You may even be able to capture St. Nick delivering gifts!
CONTACT US TO SECURE YOUR HOME
Keep this season a jolly one by ensuring your home is safe and secure for you and your family by knowing all the options SEi Security provides. Contact SEi Security today to learn more about what tools we can provide to keep your home secure.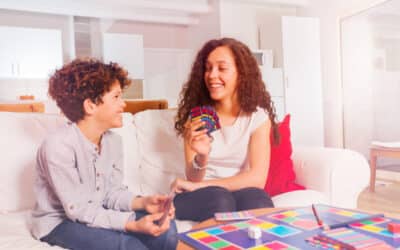 It's summer! School is out and it is time for kids to have fun and make memories. From pool time, vacations, playing with friends & neighbors, and just being able to have some fun and use their imaginations. I don't know about you – but some of my fondest...