When it comes to making sure your restaurant is secure, you know how important good locks, a safe, and security cameras are. While those are definitely important – there is more that you need to consider that maybe you haven't thought of yet. SEi Security can provide many tools and devices that will make life easier for a business manager or owner.
Let's look at the 4 ways SEi Security can help you keep your restaurant and your employees safe and secure:
1. Temperature Monitoring:
When it comes to running a successful restaurant, it is vital that all food is stored correctly, which means that freezers and refrigerators maintain safe temperatures. With SEi Security, we can work with you to develop a system to help you monitor the temperature in areas where food and beverage must be maintained. By maintaining safe food storage environments, you will keep the restaurant from having unnecessary food spoilage, and keep your customers safe and healthy. 
Not only is SEi able to monitor the temperatures for food safety, we also have the tools to help you more easily monitor and control your building's temperature. This allows your staff to focus on your customers instead of the thermostat. You can even manage this remotely, giving you control of the highs and lows of temperature control when not present at the restaurant.
2.

Security cameras:
A typical meal service at any restaurant can be chaotic, busy, and difficult for the staff to keep eyes on what's important. Keep yourself, your customers, and your employees safe and secure with the use of security cameras that can capture things you may have missed. You can place cameras nearly anywhere you need to monitor and protect, such as the office, bar, kitchen, cash register, and the parking lot, just to name a few. SEi's business video surveillance systems provide on-demand access to real-time and archived footage that you are able to access remotely 24/7.
3.

Access control:
A access control system from SEi allows business owners to track entry activity. The major benefit of this system is having greater control over who can access what entry points – meaning you can provide specific door access for employees, cleaning crews, deliveries, office, tech equipment, and even access to freezers or other storage areas. Do your servers go on break and prop open the door while outside? A propped open door poses security risks for multiple reasons, and instead of opening yourself to these liabilities, you can just assign your employees with an access card or even their own code to get back in the building.  
4. Fire protection:
Restaurants are typically subject to annual inspections to assess and eliminate potential fire and safety hazards in restaurants. This helps to ensure that all required codes and standards are being followed by the eating establishment. Inspections are critical not only to ensure the proper fire detection equipment is in place, but that the system is functioning as it should. 
If you are planning a new restaurant, let SEi's trusted and trained technicians design and install your fire system, providing you peace of mind knowing the system was installed correctly in proper working order from day one. If you already have an existing system in your restaurant, contact SEi to watch over your investment 24/7 in the event that the unexpected happens.
CONTACT US TO SECURE YOUR RESTAURANT
Whatever your restaurant needs, SEi Security can customize a security plan that identifies and deters activities that can harm your business and threaten your employees. Secure your restaurant by knowing all the options SEi Security provides. Contact SEi Security today to learn more about what tools we can provide to keep your business secure.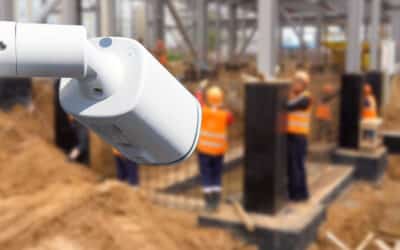 Video surveillance on construction sites and job sites plays a crucial role in ensuring security, safety, compliance, and overall project management. It provides a valuable tool for preventing theft, deterring vandalism, monitoring progress, and protecting the...