Thanksgiving brings family and friends together to share great food, conversation, and laughter. Here are a few tips for a perfect Thanksgiving making life easier and safer for your friends and family.
Food Preparation:
Here are a few tips to have the best tasting, fully cooked turkey.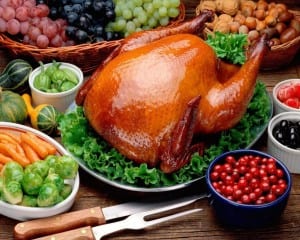 When thawing a turkey plan in advance. A 20-pound turkey may take as long as five days to thaw out.
Keep the stuffing out of the turkey. Cooking your famous family stuffing recipe in the turkey may lead to harmful bacteria growth within the bird.
When planning for your guests figure on 1-1.5 pounds of turkey per person.
Buy a meat thermometer. Turkeys need to have an internal temperature of 165 degrees Fahrenheit.

Don't panic if you have any last minutes questions there is help!
Toll-free USDA Meat & Poultry Hotline
This food hotline will be staffed with professionals from 10a.m. to 4p.m. Eastern Time.
They will be able to answer all of your last minute turkey questions.
Call the USDA Meat & Poultry Hotline at:
1-888-MPHotline Or 1-888-674-6854
You may also send them a email to: fsis@usda.gov
You may also chat online through their website here
Fire Safety:
On Thanksgiving fires are three times more likely to happen. Here are some ways to prevent those costly mistakes.
If you are frying your bird, make sure your turkey fryer is on a hard, level surface to ensure the fryer will stay upright.
Be sure to not to place your turkey fryer under an overhang, canopy, or temporary roof as it may start a flare up and engulf your house.
Never leave your kitchen when cooking. Those pans full of food, grease, or oils cooking on the stove top are a perfect place for a kitchen fire to hap
pen while you're in the other room.
Clear the stove-top and be sure not to leave any towels, hot pads, or plastic spoons as they are perfect fire starters on a hot surface.
You probably already know this but, be sure to put all pan and pot handles towards the back of the stove. Your kitchen will be full of people and you don't want anyone to knock a pot or pan off of the stove.
Use Baking Soda to put out all grease fires, water will just spread the flames and not put it out.
If you don't have a fire extinguisher at home already this is the perfect time of the year to get one. Make sure that you get a wet-chemical or multi-use extinguisher for the kitchen!
Be sure to plan your wardrobe before the big day. If you're going to be cooking be sure to not wear anything that is loose hanging, strings or long sleeves as these are easy to shut in the oven.
From our family to yours have a safe and happy Thanksgiving!