Thanksgiving is one of the busiest times of the year to travel. Distracted driving is up during the holiday season because drivers are more worried about the party then on getting to their destination. Here are a few Thanksgiving travel tips to avoid accidents on the road.
Invest in a GPS if you don't know where you're going to ensure you won't miss the big meal!
Make sure you get a tune-up on your car before you travel a long distance.
Make sure to start the trip off with a full tank of gas. The weather in the Midwest is dangerously cold in the winter and you don't want to be caught out in it.
Don't be a distracted driver, don't text and drive or look at social media!
If you're traveling by plane be sure that your carry on liquids are 3.4oz or 100ml or less per item.
Don't drink and drive. Extra law enforcement will be on the lookout for those who enjoyed themselves a little too much this holiday season to keep the roads safe.
Be sure to arm your security system to keep your pets and stuff safe while you are giving thanks and enjoying a perfectly prepared feast.
Winter Weather Driving Tips: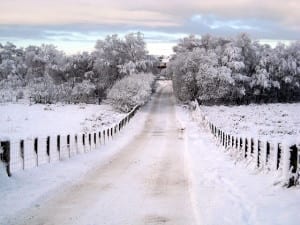 Accelerate and decelerate slowly. Applying the gas slowly is the best way to regain traction.
Be sure to drive slowly. Plan ahead to give yourself enough time on the road to arrive at your destination on time and safely.
Be sure to stay 10 seconds behind other drivers on the road. It will give you extra time to react in case something happens.
If you are going up a hill, don't stop and try to restart. The best option is to keep pressing on the gas lightly until you reach the top of the hill.
If you are given the opportunity, don't stop your moving car. It is easier to stay in motion than regain motion on the winter roads. Even a slow roll up to a light until it changes color is beneficial.
The safest driving option in these treacherous winter months is to not drive at all and to enjoy the warmth of your home.
Here is a link to check the weather near you so you can plan your travel accordingly:
For Road Side Help:
For Roadside Assistance in Nebraska, Iowa, and Kansas dial: 5-1-1
For Roadside Assistance in Missouri dial: *55