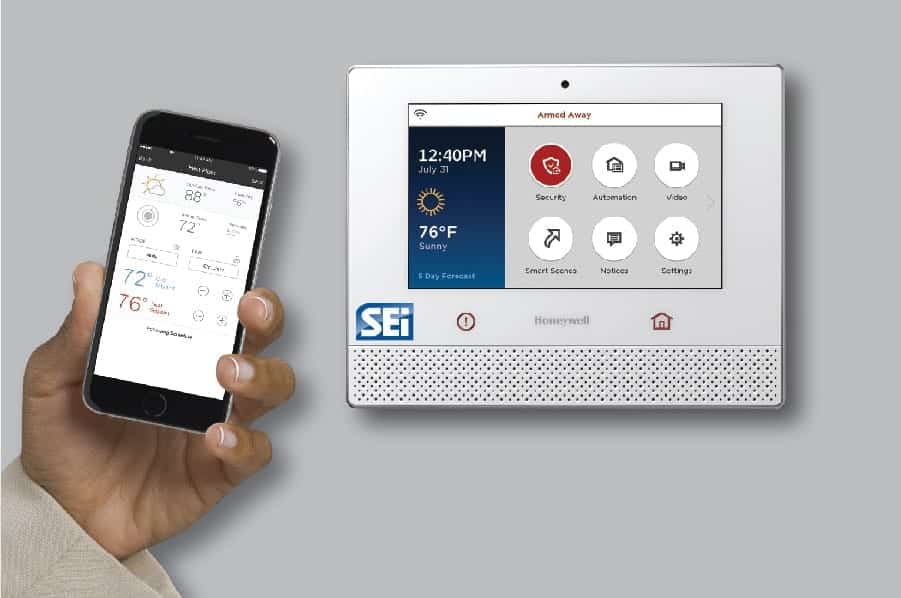 Wouldn't it be nice to keep your security system in your pocket everywhere you go? Security Equipment Inc. is making that possible with our leading technology in security systems.
Keep your eyes on what matters with a smartphone security system from SEi. Connect your mobile device or tablet with our inTouch smartphone app and take control of your security.
Surveillance Cameras at the tip of your Fingers
Smartphone security capabilities mean that you can view live or pre-recorded feeds from your wireless security cameras. Check in on loved ones, your home if you're out of town, your pets while you're at work or a service worker accessing your home. Also, in the potential case of an intrusion, our surveillance cameras can help you identify who is at the door before you open it.
Other option in surveillance cameras for your home is a video doorbell. Our video doorbells connect to smartphones and can capture live video as well as record video whenever it catches motion or the button is pressed. When someone rings your doorbell, you receive a notification on your phone of live video, so you always know who is at your door even when you're not home. Our video doorbells also enable you to hear audio and talk to whoever is at your door through your mobile device.
Having cameras outside it a great way to deter intrusion. Many don't attempt break-ins at locations with a monitored security system.
Automize your Home
Using a mobile phone for your security system has additional advantages. With a customizable security system from SEi, you have the ability to add automation services to your security system and utilize just one app.
Smart House System with Home Automation
Control your home from your smartphone. Here are some options when looking into home automation:
Garage door control:

monitor and control your garage door right from your mobile device. Receive updates if you've left your garage door open for a determined period of time. If your garage door is connected with your home security system, the opening of a garage door when the system is armed sends an alarm to our Monitoring Center alerting possible intrusion.

Smart lights:

control your lights from your smartphone whether you're at home or away. You can set schedules for when they turn off and on, which can help deter intruders. You can also set lights to turn off after a period of inactivity to save energy and money.

Smart door locks:

Upgrade your existing deadbolts into a smart lock with keyless access that you can control from your smartphone. If your mom is stopping by the house to let the dog out, you can unlock the door once you see her on the video surveillance! You can also get notifications when someone unlocks a door, like your children returning home from school.

Temperature control:

We've talked about temperature control before, but adding climate control to the list of automations you're able to do with your mobile for is not only smart, it's convenient.
We want home security to be easy for you, which is why we made it possible to access your home, doors, locks, lights and cameras through your smartphone.
The peace of mind you gain with having your security system at the tip of your fingers is priceless. You can relax knowing your home, loved ones, and possessions are secure and that SEi's Monitoring Center always has someone waiting in case of an emergency. Contact us today to find out more about our smartphone home security systems.