Living alone is not reserved for older adults anymore. More and more the younger generations spend many years living alone.
The statistics don't lie: 37 million (15%) adults age 18 and over lived alone in early 2021, up from 33 million (14%) in 2011. And, without roommates you find yourself without an extra pair of eyes and ears to be aware of intruders. It's always a good idea to take precautionary measures before deciding on a place to live.
While you may be tempted to DIY a home security system, there are many advantages to having your whole home monitored by experts, especially when living alone. Here are five ways our whole home security system can keep you safe while living alone.
1. Door locks
Whether you are renting or buying, previous owners or tenants might still have keys to your home. Changing your locks may give you peace of mind. Even if you do not own, this is a common request that can be made to your landlord. This will ensure that you control who has access to your place and you can have control over the strength of the locks installed to ensure the highest amount of protection.
Gone are the days when people felt comfortable leaving doors unlocked, especially when they were home. You should always keep your guard up to protect yourself, especially when living alone.
2. Secure Windows
A common entry point for home intruders is through windows, especially when windows are on the ground level. You can place SEI Security sensors on all your windows. So, if a window is tampered with, a signal will be sent to your security system's control panel and the monitoring center. Another layer of protection to your security system with glass break detectors that are capable of sending remote notifications and alerts our monitoring center when the sensor "hears" glass breaking.
If adding sensors by drilling into window or door frames is a concern, you can install door and window contacts using high grade double stick tape to ensure no damage to the property in the event you need to retain your security deposit.
3. Security cameras
When you think of security cameras for your home, you may think that this is limited to single family homes that you own – but we recommend them for anyone, anywhere – whether apartment living or renting a home or duplex.
SEi offers wireless surveillance home alarm systems, which can work great when renting a space and wanting to retain a security deposit. You can monitor your premises, anytime, anywhere from your smartphone, PC, laptop or tablet, with our advanced security camera systems.
4. Fire & Carbon Monoxide Detectors
It is vital that every dwelling place has appropriate fire and carbon monoxide detectors. When living alone, these become even more valuable to keeping yourself safe. At SEi, our monitored fire and smoke detectors are ALWAYS ON, ensuring first responders are quickly alerted. As soon as smoke or fire is detected, our monitoring centers will quickly notify you and your local fire department. Customers may option for text alert mobile devices for non-life safety alarm signals. The SEi mobile app puts the power in your hands to manage your home system and receive notification alerts when home or away.
5. Lights
Lights are an indicator whether someone is home or not. They can be a beacon to intruders, or a deterrent. It is a simple and understandable way of saying that the homeowners are present. However, leaving the lights on for long periods straight are too obvious to robbers who will immediately have an idea that the lights were left on for a purpose, and the owners are not home. SEi offers smart and automated lights which you can easily turn on or off anytime from your mobile device. You can program your lighting to turn on or off at specific times to mimic your daily schedule. You can even set sensors to turn on lights when motion is detected, and randomly alternate light settings while you're away or traveling to deter burglars.
CONTACT US TO STAY SAFE WHILE LIVING ALONE
Protect your home today by knowing all the options SEi provides for your safety while living alone. Contact SEI Security today to discuss how we can ensure you have all the tools you need.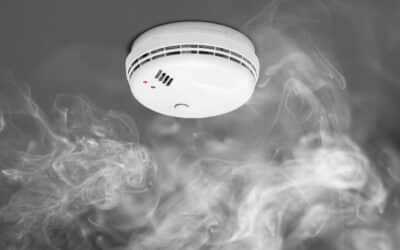 When it comes to home safety, few things are as crucial as a reliable fire alarm system. But did you know that you can enhance your fire safety measures by integrating your fire alarm system with home automation? This powerful combination can make a significant...